THE OFFERING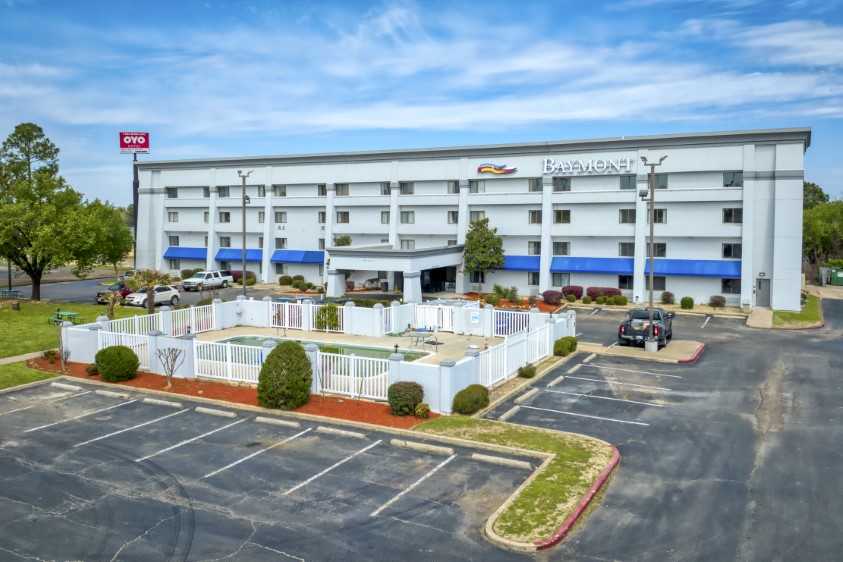 HVS Brokerage & Advisory, in cooperation with Jennifer Stein Real Estate Inc., as the sole and exclusive advisory firm to ownership, is pleased to present the opportunity to acquire the Baymont by Wyndham Texarkana, a limited-service hotel asset in Texarkana, Arkansas. The property benefits from its prime location in Texarkana, at the crossroads of Interstate 30 and U.S. Highway 59/71, situated near the thriving downtown area and key commercial corridors. Texarkana spans two states and features various restaurants, shopping, and attractions. The property is also located near a multitude of corporate demand drivers, including the TexAmericas Center, the expanding I-30 corridor, and the upcoming Courthouse Square Initiative. Additionally, the property is proximate to major healthcare facilities such as CHRISTUS St. Michael Hospital and Wadley Regional Medical Center. The strategic location allows the hotel to capitalize on the region's strong economic development, infrastructure improvements, and growing tourism industry.
Financials as of Year-end 2022
PROPERTY HIGHLIGHTS
Below Replacement Cost
This opportunity presents an investor the ability to acquire the property at a price well below replacement cost, at less than $33,000 per key.

The opportunity exists for immediate value creation without large capital investment.
Operator/Owner's Apartment
The property contains onsite living space for an owner/operator.
Recently Completed Renovations
The property features modern and updated facilities, designed to enhance guest experience and reduce expenses with more efficient designs and systems.
Strong Demand Generators and Proximity to Major Markets
The property is favorably located near the Texas, Arkansas, Louisiana, and Oklahoma state borders along Interstate 30, supporting a stream of steady lodging demand.

The hotel benefits from the demand created by regional events, corporate business, and leisure travelers.
Robust Economic Development
The following bullet points highlight the robust economic development occurring in the area:

$100-billion, ten-year transportation plan proposed by Governor Abbott and TxDOT

$88.9-million widening project of Interstate 30

Courthouse Square Initiative project in Downtown Texarkana

TexAmericas Center attracting high tech companies and developing green energy data centers

Texarkana Regional Airport recently awarded funds for a new terminal

Miller County's Alex Smith Park receiving state funds for improvements
Impressive Growth and Performance
Per the December 2022 Monthly STR Report, the hotel realized a 36.8% RevPAR increase from 2021 to 2022, outperforming the competitive set's average of 9.8% growth.

The hotel's RevPAR penetration index remained above 100.0% from 2018 through 2022, demonstrating its resilience and ability to capture market share.
PHOTO GALLERY
Resize thumb images to 270px (width) x 180px (note: thumb height should consistent), and place in "thumbs" folder inside the "gallery" folder. Full size images should be resized to 1000px (width) with any height
Thumb images should be the same filename as the full size images.
Image file name format: [number] - [word] example: "1 - Front View"
Go to UFS "gallery" folder to add images to gallery.
CONTACT US
Investment Sales Contacts