THE OFFERING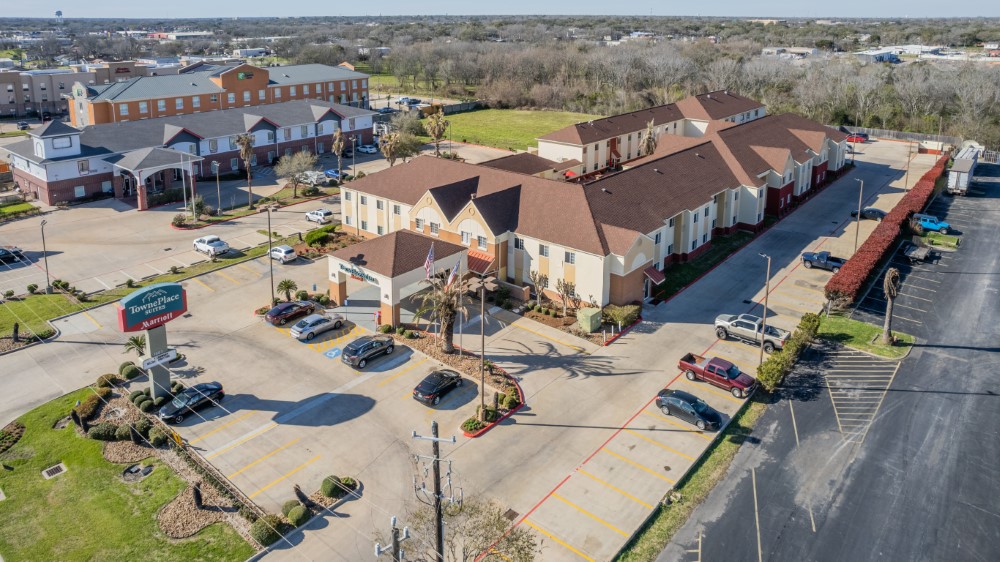 HVS Brokerage & Advisory, as the sole and exclusive advisory firm to ownership, is pleased to present the opportunity to acquire the 82-key TownePlace Suites by Marriott Lake Jackson Clute, an extended-stay, limited-service, interior-corridor hotel asset strategically located between Downtown Lake Jackson and Freeport, Texas. This offering presents an excellent opportunity for a more "hands-on" owner/operator to acquire an underperforming asset with operational upside at an attractive cost.
Financials as of TTM December 2022
PROPERTY HIGHLIGHTS
Significant Upside for a New Operator to Improve Performance
Per the December 2022 trailing-twelve-month (TTM) operating statement, the hotel's gross operating profit (GOP) was 14.3%. Based on a selection of similar limited-service, extended-stay operating statements, the hotel should achieve a stabilized GOP margin between 45.0% and 50.0%.
Excellent Location Among Strong Corporate Demand Generators
A large commercial zone featuring many prominent petrochemical-related corporate demand generators, such as Dow Chemical's company plant, BASF Chemicals, and SK Primacor Americas, is located about one mile to the south of the property, on the opposite side of Texas Highway 288/332.
Additionally, Dow Chemical recently completed construction of the new, 1,000,000-square-foot Dow Texas Innovation Center, approximately four miles north on Texas Highway 288/332, which employs over 2,000 employees across its contemporary campus. Other impactful corporate demand generators in the market include Wood Group, Phillips 66, Freeport LNG, Fluor, Jacobs Engineering, Chevron Phillips Chemical Co., and Schlumberger.
Discount To Replacement Cost
This opportunity presents an investor the ability to acquire the property at a price well below replacement cost at $71,951 per key.
World-Class Marriott Brand Affiliation
TownePlace Suites by Marriott hotels offers compelling economics and strong RevPAR performance. The average RevPAR index for the brand is 113.9% nationally. Given the current low index of 69.6%, per the December 2022 year-end STR report, the opportunity to raise current performance metric penetrations will allow a new investor to benefit from the proprietary frequent traveler, customer loyalty, and multi-brand marketing program marketing program.
Management Availability
The property is being offered free and clear of any management encumbrances, providing an investor with the flexibility to revamp the operational strategies of the current operator.
PHOTO GALLERY
Resize thumb images to 270px (width) x 180px (note: thumb height should consistent), and place in "thumbs" folder inside the "gallery" folder. Full size images should be resized to 1000px (width) with any height
Thumb images should be the same filename as the full size images.
Image file name format: [number] - [word] example: "1 - Front View"
Go to UFS "gallery" folder to add images to gallery.
CONTACT US
Investment Sales Contacts