THE OFFERING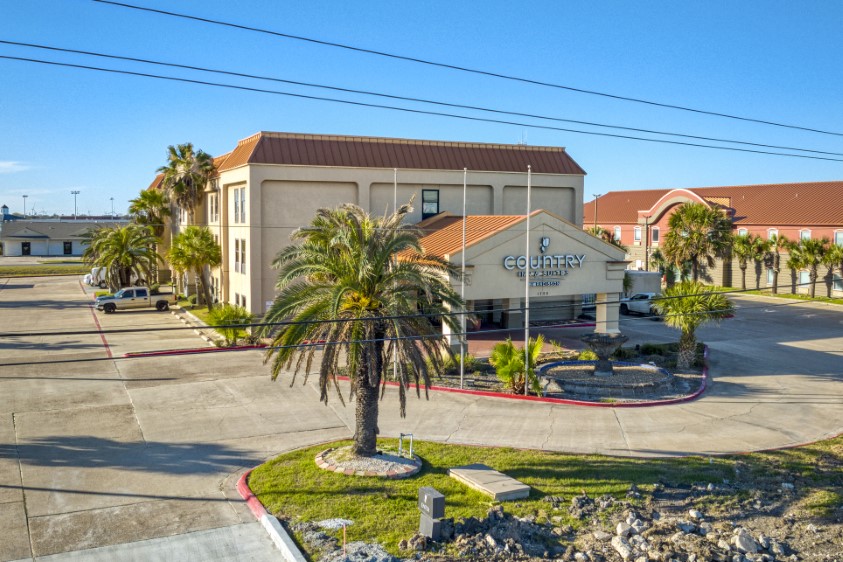 HVS Brokerage and Advisory, as the sole and exclusive advisory firm to ownership, is pleased to present the opportunity to acquire the 54-key Country Inn & Suites by Radisson, a limited-service hotel asset in Portland, Texas. Portland is situated in San Patricio County along the Gulf of Mexico, across the bay from Corpus Christi, and is anchored by the oil and gas, petrochemical, and manufacturing industries. The hotel is currently owner-operated and will be sold without management encumbrances. The property is in very good physical condition, and the potential exists for a rebranding to the Spark by Hilton brand, the newest addition to the Hilton portfolio. The hotel offers an opportunity for increased NOI flow-through through cost-saving initiatives, yield-management strategies, revitalizing the sales and marketing initiatives, and regaining a competitive advantage.
Financials as of Running 12 Month, Ending Dec 2022
PROPERTY HIGHLIGHTS
Excellent Location Among Strong Corporate & Leisure Demand Generators
The property is conveniently located off U.S. Highway 181 and within a mile of Northshore Cinema 8, Portland Aquatics Center, and various restaurants, and within ten miles of popular attractions such as the USS Lexington Aircraft Carrier Museum, Texas State Aquarium, American Bank Center, Whataburger Field, and the Corpus Christi Museum of Science and History.

The property is located a short 20-minute drive from Corpus Christi International Airport and Downtown Corpus Christi.
Dynamic Economic Growth & Investment Opportunities in Portland
The local government is highly supportive of businesses and actively working toward expansion, particularly in the petrochemical industry, creating significant investment opportunities.

The city is anchored by a $38-billion industrial investment, leading to increased commercial growth and economic opportunities, including a new approved retail development at U.S. Highway 181 and Broadway Street.

The city is experiencing an average of 17.0% growth every year, leading to a potential reduction in the tax burden for residents.

Despite its growth, the city is committed to maintaining a strong sense of community, with a focus on preserving its parks and green spaces.
Absentee Owned with Operational Upside
The property is currently absentee owned and has great potential for a more "hands-on" owner/operator to restructure operations and maximize profitability.

According to the December 2022 trailing-twelve-month (TTM) monthly STR report, the hotel ranked fifth in terms of occupancy, average daily rate (ADR), and RevPAR, leaving major room for improvement and increased competitiveness among other hotels in the area.
Potential to Rebrand with Spark by Hilton
A new investor would benefit from operating a franchise of one of the world's leading hospitality companies, Hilton, should new ownership choose to rebrand.

Spark by Hilton offers a fresh brand image and the benefits of a well-established hospitality company.

Every Hilton-affiliated hotel and resort benefits from the unique system of innovative solutions and advanced technologies, known as the Hilton Performance Advantage. The Hilton Performance Advantage delivers leading-edge support to consistently drive profits and efficiencies. It is a powerful resource for owners and operators, unrivaled in the industry.
Discount to Replacement Cost
The property is available at a discount to its replacement cost, presenting a cost-effective investment opportunity.

To construct a similar asset with comparable amenities, the estimated all-in investment would be a minimum of $125,000 to $150,000 per key. The higher costs are due to the scarcity of available land and limited franchise options in Portland, Texas.
Unencumbered by Management Agreement
The property is being offered fully unencumbered by a management agreement.
Seller Financing Available
Seller financing is available to a qualified buyer that has a strong background in hotel operations. Please contact the deal team regarding credit approval.
PHOTO GALLERY
Resize thumb images to 270px (width) x 180px (note: thumb height should consistent), and place in "thumbs" folder inside the "gallery" folder. Full size images should be resized to 1000px (width) with any height
Thumb images should be the same filename as the full size images.
Image file name format: [number] - [word] example: "1 - Front View"
Go to UFS "gallery" folder to add images to gallery.
CONTACT US
Investment Sales Contacts