THE OFFERING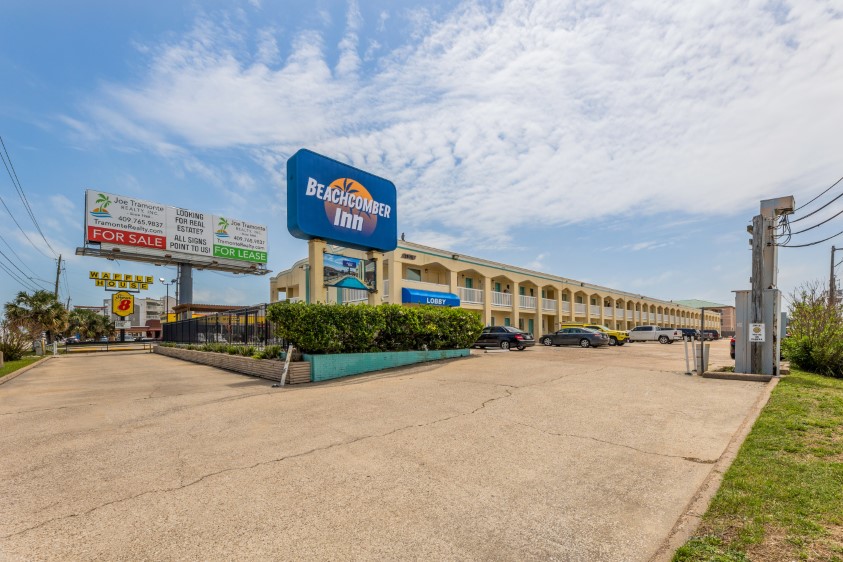 HVS Brokerage & Advisory, as the sole and exclusive advisory firm to ownership, is pleased to present the opportunity to acquire the 96-key Beachcomber Inn, an independent hotel asset in Galveston, Texas. This offering presents an excellent opportunity for a "hands-on" owner/operator to acquire a hotel asset with operational upside at a price significantly below replacement cost in a high-barriers-to-entry market. This turn-key opportunity will allow a new operator to ramp up the hotel's performance quickly and maximize its RevPAR penetration and NOI flow-through.
Financials as of Trailing-Twelve-Month (TTM) December 2022
PROPERTY HIGHLIGHTS
Ideal Opportunity for an Owner/Operator
The property features spacious onsite living quarters, including a two-bedroom manager's apartment.

As an independent hotel asset that is being offered free and clear of any management or franchise encumbrances, an owner/operator is afforded maximum flexibility to revamp operational strategies.
Discount to Replacement Cost
The property can be acquired below replacement cost.

The estimated all-in investment to construct a similar asset with comparable amenities is a minimum of $125,000 per key due to the scarcity of available land.
Strong Performance and Stability
The hotel has consistently outperformed the competitive set, achieving a trailing-twelve-month (TTM) RevPAR penetration index of 114.0% per the December 2022 STR Trend Report.

The hotel has demonstrated remarkable stability over the last decade, producing an average of $1,659,579 in annual rooms revenue.
High-Barriers-to-Entry Market and Excellent Beach Access​​​​​​​
Galveston is a high-barriers-to-entry market due to limited developable land, strict zoning regulations, and a historic district that restricts new construction.

Galveston Beach is within a five-minute walk of the property.
Strong Leisure and Corporate Demand Generators
Corporate demand generators in the area include the University of Texas Medical Branch (UTMB), Galveston College, Texas A&M University, Landry's, Moody Gardens, Moody Bank, ANICO, Mitchell Family Companies, Marathon Petroleum, and Valero.

Leisure demand generators in the area include Port of Galveston Cruise Terminal, Moody Gardens, Schlitterbahn Water Park & Resort, Pleasure Pier, 61st Street Fishing Pier, Galveston Island Convention Center, and historic Downtown Galveston.

Port of Galveston is ranked fourth out of busiest cruise ports in North America, and the cruise-ship industry is expected to recover from pandemic setbacks.

Over 80 year-round festivals, special events, sporting events, and gatherings are held in Galveston in a typical year.
PHOTO GALLERY
Resize thumb images to 270px (width) x 180px (note: thumb height should consistent), and place in "thumbs" folder inside the "gallery" folder. Full size images should be resized to 1000px (width) with any height
Thumb images should be the same filename as the full size images.
Image file name format: [number] - [word] example: "1 - Front View"
Go to UFS "gallery" folder to add images to gallery.
CONTACT US
Investment Sales Contacts